BLASTER WARS, TEAM EVENTS, YOUTH GROUPS, FIELD TRIPS, FUNDRAISERS, CORPORATE EVENTS, TIME-OUTS, AND MORE! PLAN YOUR SPECIAL EVENT WITH BIG FUN NOW!
Friday nights just got a whole lot more fun with Big Fun's Blaster Wars! From 6pm to 9pm, players 5+ years old can unleash their inner warrior and enjoy some incredible blaster / dart battles. Multiple styles of team and individual games are played throughout the night, including Big Fun's version of "Capture the Flag," "VIP or RIP," "Battle Royale," "Predator vs. Prey," "Kids vs. Adults," and more! Each game is timed and only players are permitted in the main attractions area (the "War Zone") during the organized games. Intermissions are enjoyed throughout the evening as well, which allows for all other guests to access the attractions in-between the battles. Big Fun provides unlimited "elite" style darts (2.75"x0.5"), eye-protection goggles or glasses to use, team jerseys to use, and team leaders to help organize and referee the battles. Although Big Fun has a very limited number of blasters available for use, IT IS HIGHLY RECOMMENDED THAT YOU BRING YOUR OWN BLASTER! Players 5+ years old are $25.99. Adult Players 18+ years old are $9.99. Non-player children and adults range between FREE and $15.99 depending on their age, for the restricted access play (in-between organized battles). Non-players must stay out of the "War Zone" during battles and players must wear eye-protection. The dining area in the restaurant and the fenced "Toddler Zone" are the "Safe Zones" all night. To book your tickets, Click this link (https://checkout.roller.app/bigfunplaycanada/products/admissions#/sessions) and choose the Friday at 6pm time slot to see the Blaster War related ticket options. Booking in advance is strongly encouraged!
Looking for an unbeatable team-building experience! Look no further! Let us know your team's needs and Big Fun will create a perfect event for the crew with special rates to boot! Email info@bigfuninflatablepark.ca for more information.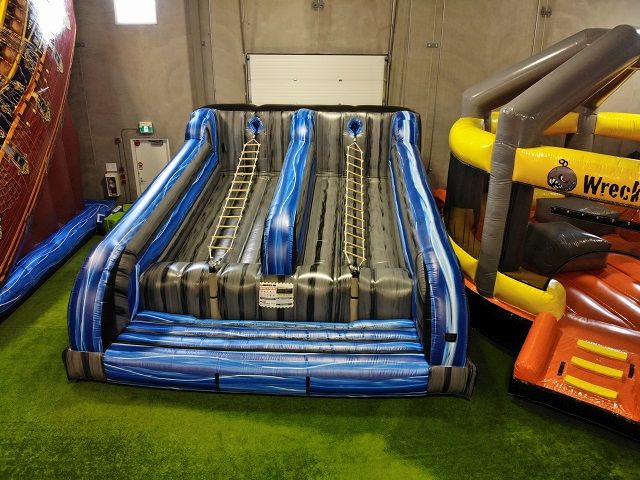 Take your youth event to another level with Big Fun! If your youth group is a not-for-profit organization or a registered religious organization, Big Fun will with you to organize an incredible discounted event that makes the process easy, efficient, and hassle-free for up to 400 guests at a time! Email info@bigfuninflatablepark.ca for more information.
Regardless of the guest's age, the daycare/dayhome, the school board, before/after school program, and/or special youth program, sometimes… you just need to get out! Big Fun hosts tons of field trips every year and would love to help with your next field trip! With special pricing and special allowances for approved field trips, Big Fun can organize and plan the perfect field trip with you. Let us help by emailing info@bigfuninflatablepark.ca.
Tired of the same old fundraisers? Sick of slinging cookies or bacon? Why not sell something that everyone wants… a good time and making a difference while you play! Big Fun can help you prepare a wide range of fundraising strategies on-site, that can help generate some great funds for your initiative. Email info@bigfuninflatablepark.ca for details and to learn more about how you can turn regular admissions at Big Fun into $$$ for your fundraising goals!
From small businesses to large corporations, Big Fun provides an incredibly entertaining experience for corporate teams, to come together, let loose, forget your stress, and just have some fun! If you're lucky, you might even get to watch your boss show off some priceless fails! Email info@bigfuninflatablepark.ca to organize the fun and funniest event you've ever done. Oh yeah… we're licensed too!