AMAZING MEMORIES ARE MADE AT BIG FUN!
Big Fun offers family fun for everyone! 30,000sf of inflatable attractions and an incredible LICENSED restaurant with tons of eats and treats, will provide an unparalleled experience for all ages! To ensure your visit exceeds your expectations, please check out the KNOW BEFORE YOU GO details below.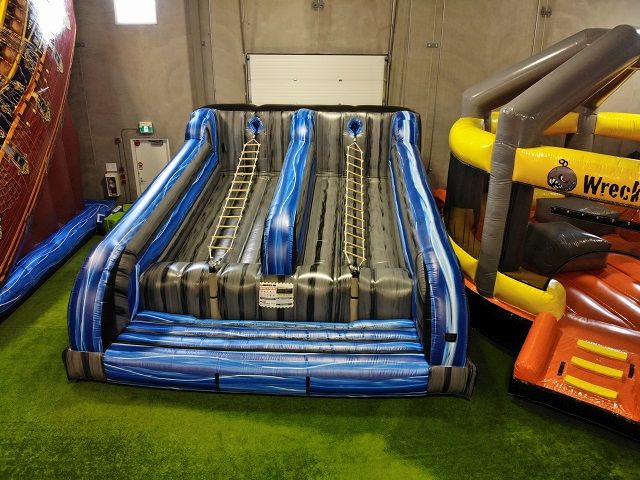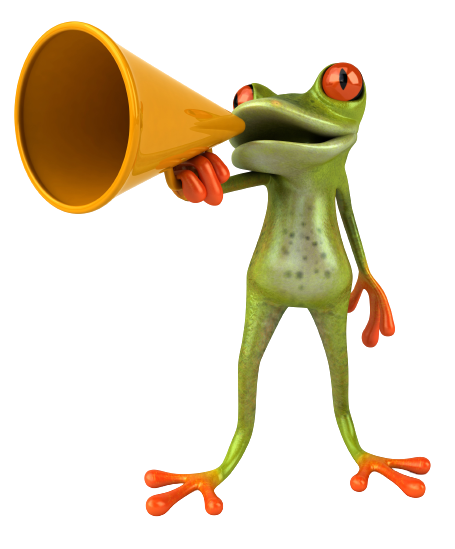 Open daily from 10am to 8pm with special hours on Friday nights (6-9pm for Blaster Wars) and Saturday Nights until 9pm.
Booking online is encouraged to avoid frustration, if Big Fun is at capacity! This is VERY IMPORTANT on Weekends, PD Days, Statutory/School holidays, and Friday night Blaster Wars. Booked guests are guaranteed admission BUT walk-ins may be restricted, if at capacity.
NO CASH on-site. Debit, Credit, Apple Pay, and Android Pay are accepted, and gift cards can be purchased online or in-store. Gift cards do not expire.
Outside food or drinks are NOT permitted. Reusable water bottles are encouraged, and baby food is permitted.
Licensed restaurant on-site with tons of healthy and fun, allergen-friendly foods. Explore the full menu on the restaurant page. Make sure to check out the Weekday Dine-In Deals!
Please be respectful of reserved parking stalls, specifically during PD Days and School Holiday Days, while our building neighbors are open.
Party activities, including gifts, cake (no ice cream cake), candles, balloons, etc. are ONLY permitted with a party package or room rental.
Big Fun Frog Socks required for all guests participating on the attractions. Grip socks with rubber heel grips NOT PERMITTED!
A release and indemnity agreement (waiver) required for all guests. All guests +18 years old must be on their own waiver. Children (under 18 years old) must be included on a parent or legal guardian waiver.
Up to 2 free admissions (adults or babies under 2) are included with each paid child admission.
Adults without children in attendance will each be charged general admission to enjoy the attractions.
Free restaurant-only access for adults, if not at capacity.
Complimentary locker provided. Please securely store all valuable, inappropriate, and attraction-damaging items.
Adult supervision required for all guests under 13 years old. No drop-offs permitted under 13 years old UNLESS Pre-Booked for a Special Drop-Off Program or Super Camp.
Weekday pricing from Monday to Thursday (EXCLUDING Statutory/School Holidays and PD Days). Weekend pricing from Friday to Sunday (INCLUDING Statutory/School Holidays and PD Days. PD Days and School Holidays are based on CBE, CCS, and RVS traditional calendars.
All posted facility and equipment rules must be followed.
Team and group event pricing available for 50+ attendees (minimum of 25 paid admissions). Email for options.
3-hour private facility rentals available for groups with 200-400 attendees. Email for options.
Big Fun reserves the right to limit your visit to 2 hours, if necessary, due to capacity limitations.
Admission re-entry is not permitted.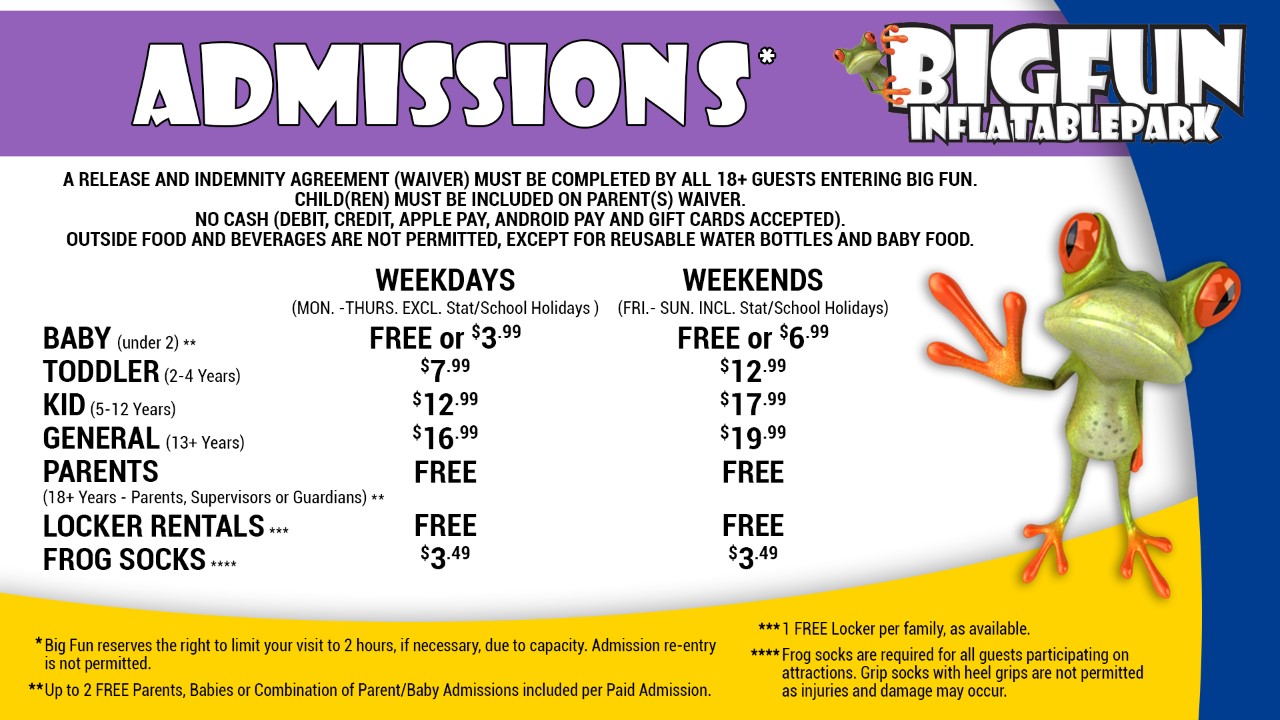 Party Packages and Room Rentals
Daily or Weekly Super Camps
BOOK YOUR PARTY OR ROOM RENTAL NOW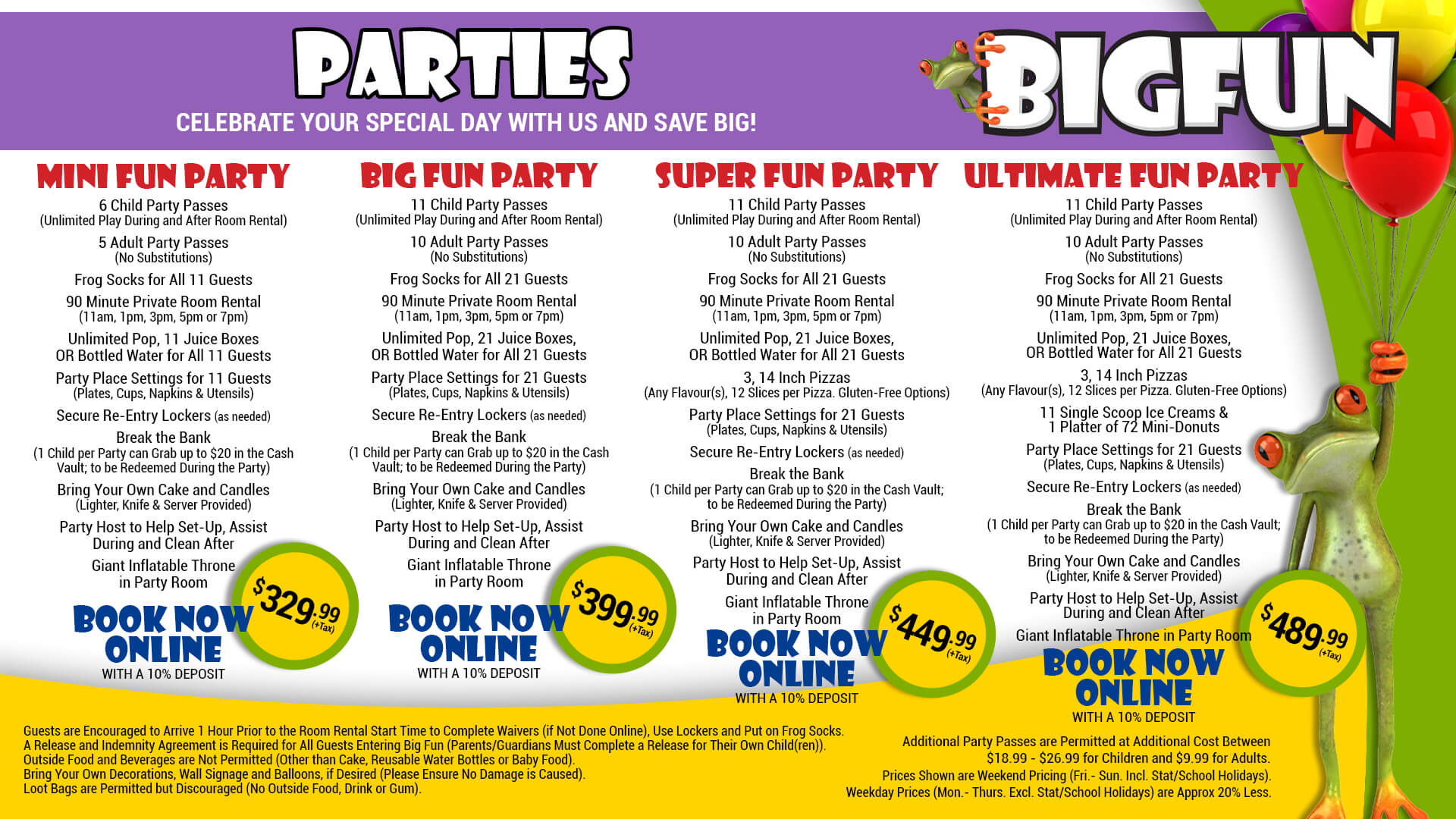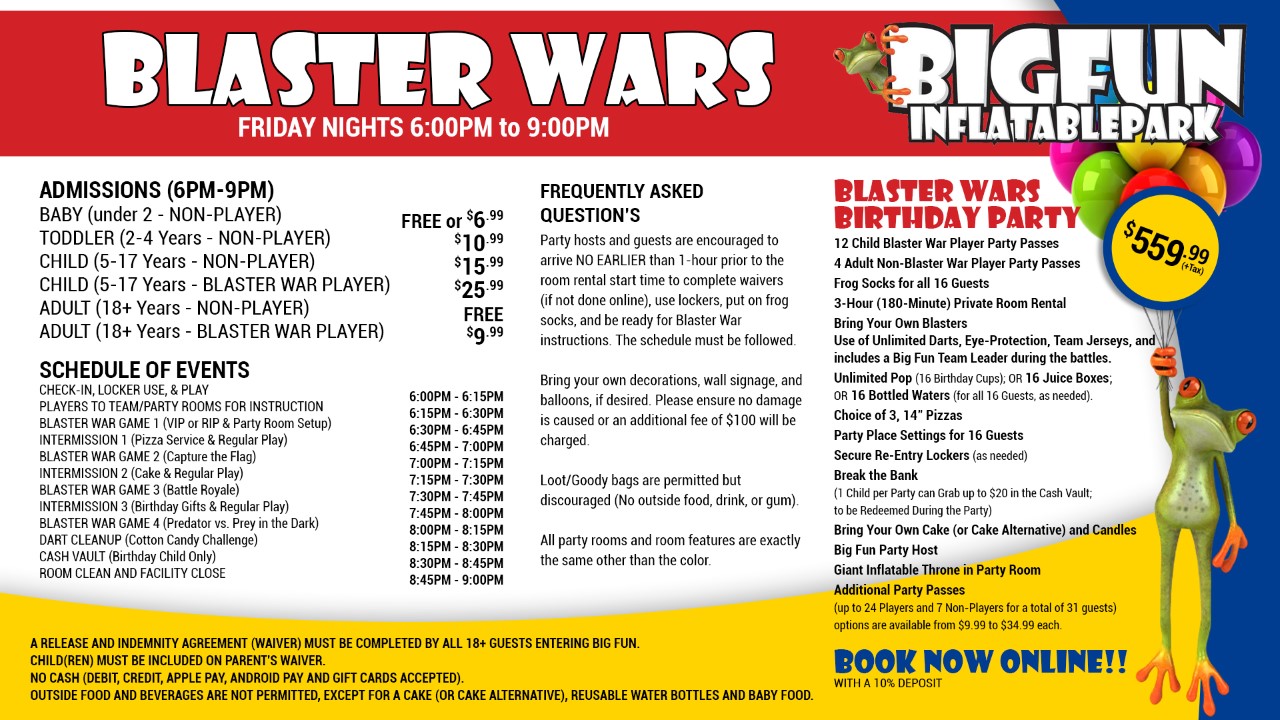 PLEASE READ CAREFULLY TO PLAN THE PERFECT EVENT!
Everyone deserves an awesome party on their special day! Big Fun is here to make that happen with ALL-INCLUSIVE parties, everyday!

Secure your party package with a 10% non-refundable deposit.

Party balances are paid at the end of the party and can include upgrades to a higher or lower party package, as needed.

Additional food or drink items or other changes, requested during the party can be paid at the end of the party.

Additional Party Passes are permitted (at additional cost) to a maximum of 31 total guests per room. Additional Party Passes can be purchased in advance when booking a party, or can be added/removed on the day of the party based on actual attendance. Big Fun Party Hosts will add Party Passes to the balance based on attendance at the party.

Additional Adult Party Passes are $9.99+tax and include Party Room Access, Frog Socks, Unlimited Pop, and Party Place Settings. Adults that drop-off party attendees are not charged BUT EVERY adult that stays in the facility and enters the party room, will be considered an adult guest of the party and will be added to the party balance. 
Additional Child Party Passes are between $17.99-$26.99+tax (depending on the day of the party and the party package selected) and includes Facility Admission, Party Room Access, Frog Socks, Unlimited Pop, and Party Place Settings. Parties that include food will also include additional food, based on the selected party package.
Babies (under 2) that CANNOT play on attractions (and won't use frog socks due to not being able to use attractions), will not drink pop, or use party place settings and supplies ARE NOT charged or considered one of the included children.  

Party activities, including gifts, cake, candles, balloons, goodie bags, etc. are only permitted with a party package or room rental.

Other than a cake or cake alternative (No ice cream cake) in a rented party room, outside food and drink are NOT permitted.

Save approximately 20% on weekdays, EXCLUDING PD Days, and Statutory/School holidays.

Room rentals require full payment in-advance, online.

Enjoy a PRIVATE party room with your choice of red, orange, yellow, green, blue, or purple color accents and a giant matching color inflatable throne. ALL rooms are exactly the same size (11ft x 20ft) and can hold a maximum of 2, 8-foot picnic tables, which seats a maximum of 24 guests total (12 guests per picnic table).

It is strongly encouraged that our party hosts and guests attend the facility, NO EARLIER than 1-hour prior to their 90-minute room rental start time. This allows for guest registration and the admission process, putting on wristbands, completion of forgotten waivers (if not done online, in advance), locker use (as needed), removing footwear, and putting on your frog socks. If early enough, the process should allow for an extra 30-40 minutes of play before the party room is available.

During the 1-Hour before your room rental starts, please confirm with your party host what types and flavors on beverages you want and, if your party selection includes food, let your party host know the flavors of pizza and preferred time for food (within a 15-minute window).

We recommend that you advise your guests of a "self-decided" end time to the party. Your guests may choose to stay and play longer after the party, but you may not want to. Parties usually are about 3-4 hours total including the recommended early admission.  

Decorations are permitted but do not use items that cause damage.

Access to the room is permitted usually about 15 minutes before the room rental start time, but the Big Fun team may still be cleaning from the party before.

Piñatas are NOT permitted.

Goodie bags are permitted but discouraged due to no outside food or drinks being permitted, especially if they include gum or nut products.

When your room rental of 90-mins is over, it is strongly recommended that you remove your valuables (Gifts, Decorations, Food Leftovers, and supplied Birthday Cups) so that Big Fun staff can clean after you and prepare for the next party.

Remember to advise your guests of the party end time as well, as the birthday child (or parents) may want to head home before their guests want to leave.

A maximum of 24 Kids are permitted per room for Blaster War Parties.

Blaster War Parties MUST follow the Blaster War Party Schedule to maintain the schedule for all participants, so please plan accordingly.


PARTY AND EVENT REMINDERS
Party hosts and guests are encouraged to arrive NO EARLIER Than 1-hour prior to the private room rental start time to complete waivers

(if not done online), use lockers, and put on Frog Socks.

A release and indemnity agreement (waiver) is required for all guests, regardless of participation on attractions or not. Parents or legal guardians must complete a waiver for themselves and then add their child(ren). You should not include anyone on your waiver that you are not legally responsible for.

Outside food and beverages are NOT permitted (other than a cake or cake alternatives, reusable water bottles, or baby food, while in a rented room).

Decorations, wall signage, and balloons are permitted, if desired BUT please ensure there is no damage.

Loot/Goody Bags are permitted but discouraged (no outside food, drink, or gum). Goody Candy Bags are available for purchase.

Prices shown are weekend rates (Friday to Sunday, incl. statutory and school holidays). Weekday rates are approximately 20% less (Monday to Thursday, excl. statutory and school holidays)

10% non-refundable deposit required for party packages. Deposits can be used toward a rescheduled event, if needed.